Watch Our Video to Learn More about Endowment Funds...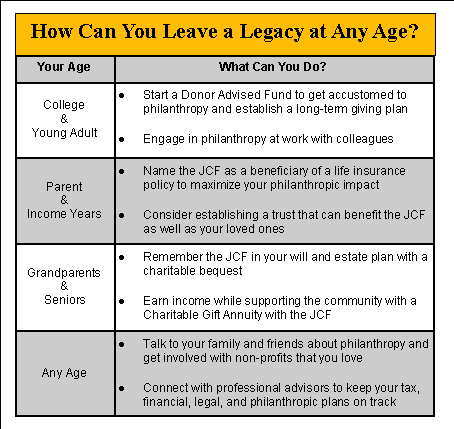 Victor Levy, Suzanne Levy-Polikoff, and Fran & Leon Levy
JCF Endowment Fund Donors
Fran & Neal Cupersmith
JCF Endowment Fund Donors
Carole & Jules Lieberman
JCF Endowment Fund Donors
Endowment funds are the lifeblood of long-term planned giving.
When you create an endowment fund, you are helping to ensure that the programs and services that you hold near and dear to your heart will continue for years into the future.
In a nutshell, here's how an endowment fund works:
First, after discussing your goals with your family and a JCF Philanthropic Advisor about leaving a legacy, the JCF will work with you to establish an agreement to sign to outline your philanthropic intentions. The agreement will state how you would like your fund to make grants to the agency (or agencies) of your choice every year for as long as the fund continues to be sustained, usually for many decades on end. (Note that this agreement can be developed in conjunction with the JCF, or by way of a bequest established with your estate plan attorney. If you do choose to leave a bequest for the JCF to hold, we encourage you to still meet with us so that we can ensure that the fund is set up to your liking.)
Next, you make a contribution to the newly-created fund. Since the JCF is a 501(c)(3) non-profit organization, you gain an immediate charitable tax deduction for your contribution to the endowment fund, regardless of when the money is granted in the future. Additional contributions can be made at any time. Contributions can be made in the form of cash, life insurance, real estate, retirement plan assets, or securities.
That's it! Once established, the JCF administers the fund including distributions, investments, oversight, and more.
How Does the Endowment Fund Operate?
Generally, the fund agreement will state that 5% (minimum allowed by law) will be granted to your designated agency/agencies on an annual basis. The principal is invested and over the long run can even grow to help your annual grant increase. The JCF's Acceptance & Investment Committee oversees the investment of all JCF funds to ensure that each fund is properly invested, balancing potential growth while aiming to mitigate risk.
Should your designated agency change its mission, go out of business, or for whatever reason veer from the programs and services that you wanted to support as described in your agreement, the JCF can work with you and/or your fund's trustee(s) to change your fund's designation to benefit an agency that will meet your wishes as closely as possible.
For example, if you wanted to designate your fund to benefit an agency that supports individuals with special needs, but in ten years your designated agency determines that they can no longer continue their services for special needs, the JCF will help determine which agency will best meet your wishes and make distributions accordingly.
Funding Options for Endowment Funds
We aim to be accommodating and supportive of our philanthropic donors. To help meet our donors' goals of leaving a legacy, we provide several options for types of funds that can be established. Here are various subsets of funds that can be created with the JCF, including:
Annual Campaign/Lion of Judah Endowment Funds: These funds are designed to endow your gift to the Jewish Federation of Southern New Jersey's Annual Campaign, to continue your annual gift every year when you are no longer here to do so. This is a great way to continue to support the Federation for many decades into the future.
Community (Unrestricted) Funds: The JCF holds funds to give back to the community every year as part of our Grants process, based on what the JCF Board and Grants Committee members determine are the most important needs at the time. To establish a Community Fund, donors place "no restrictions" on the use of their gift. Donors who choose to create Community Funds are interested in seeing their money distributed to a variety of deserving organizations that are helping the community in virtually every way imaginable.
Legacy Funds: When you select a specific agency that you are passionate about to be the recipient of your grants, you are establishing a Legacy Fund. This type of endowment fund is ideal when you have a strong connection with a particular non-profit, which can range from Jewish summer camps, to your college alma mater, to museums, to synagogues, and beyond.
Organizational Funds: Frequently, non-profit organizations will approach us about establishing an endowment fund. Why? For starters, managing an endowment fund can take a disproportionate amount of time from an administrative point of view for most organizations. Instead, non-profits can turn to the JCF to professionally manage and administer the fund, for a low fee, thus helping organizations to conserve resources for their daily operations.
Want to learn more?
Please contact contact Seth Mirowitz at 856-673-2521 to set up a confidential, no-obligation meeting to discuss endowment funds in more detail. Thank you.​